Often, when customers plan to build something new, they need to tear down an existing structure first. This is where our demolition company on Mercer Island comes in.
Demolition work takes down old structures to make room for newer, better structures. Of course, it has to be done carefully and diligently to ensure that nothing goes wrong and that the complete structure gets demolished. If you are looking for high-quality work, you should contact us at Home Care Contractors in the Seattle area.
We provide a wide variety of residential and commercial demolition services for homes and businesses in Seattle, WA, and Washington state. Our work is precise, efficient, and second to none.
Contact our company in Seattle if you need any demolition work done on your property; we have been serving clients for a decade. Our contractors are ready and willing to help you!
What Professional Seattle Demolition Contractors Do
Both commercial and residential demolition services involve tearing down buildings so that new construction can take place. However, demolition is about more than just tearing down buildings. Before they demolish the site, demolition contractors have to inspect the house or building thoroughly. They will obtain the proper permits, remove pests and rodents, and disconnect utilities.
Demolition contractors will also safely remove toxic and hazardous materials, like asbestos, from the demolition site. A demolition contractor will ensure that the site is safe and that the correct protective materials and equipment are used to guarantee the safety of everyone.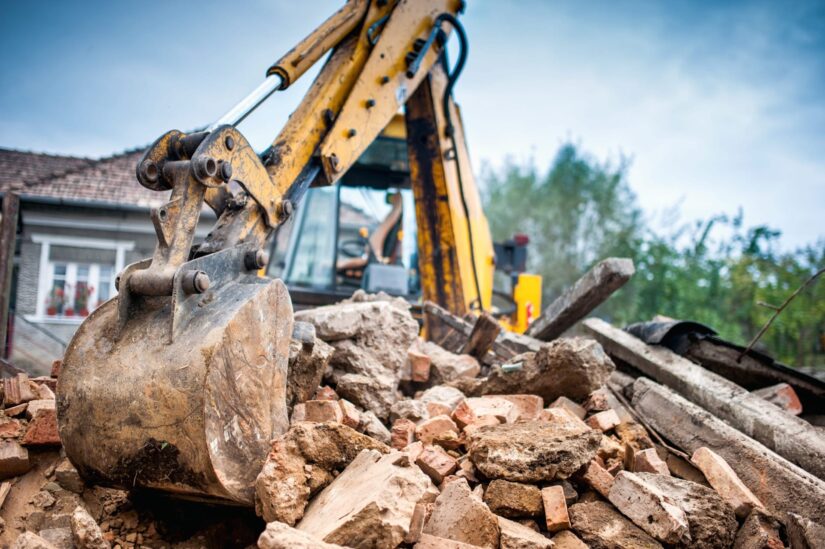 Why You Should Hire Professional Demolition Contractors
Whether you need demolition services for exterior or interior demolition in Seattle, experienced, hard-working, trained professionals are vital.
Safety
Safety is of the utmost concern, and experts follow safety protocols to ensure that the demolition proceeds smoothly. Our company will carefully inspect the property to ensure that any power or plumbing lines are properly maintained.
The Right Tools For The Job
Demolition projects require a wide variety of specialized tools and equipment to clear large, heavy pieces of debris like beams, chunks of concrete, and lead pipes. On occasion, the demolition contractors will need to remove hazardous materials from the location, and special equipment is required to do so.
Managing Waste
In the aftermath of demolition, there will be a lot of waste to be collected and discarded. Only a professional company will have the equipment and the knowledge of proper disposal procedures to perform that task. Some materials like wood, asphalt, or pieces of metal can be recycled, but hazardous materials like asbestos need to be appropriately disposed of. A professional company will use the proper disposal methods to remove those materials and transport them to designated waste disposal sites.
Post Demolition Inspection
Once the demolition has been completed, the property needs to be thoroughly inspected before new construction can begin. The inspection entails removing any toxic materials or potentially harmful debris from the location to ensure the safety of the Seattle construction crew when they are ready to start their work.
Residential Demolition in Seattle, WA
Demolition is done when a structure is no longer habitable, but the land on which it lies is still valuable, or when the homeowner wants to remodel part of their home. It could also involve asphalt removal of a driveway, deck removal, pool removal, and the removal of other structures.
Excavation is also necessary if a structure needs to be destroyed.
These could include sheds, workshops, detached garages, gazebos, patios, decks, and so on. These types of structures need to be carefully excavated if customers want to clear their land.
The Steps of Residential Demolition
Environmental Inspection – This is about inspecting the site to ensure no hazardous materials are present, which needs to be done before a permit can be issued.
Location and Disconnection of Utilities – The companies responsible for the various utilities like plumbing pipes, electric wires, gas lines, and so on must be contacted so that they can disconnect them before demolition takes place.
Obtaining the Permit – The contractor will receive a permit from the local permits office to officially and legally begin the demolition.
Seattle Commercial Industrial Demolition
The demolition of an industrial building is often done either because the building is no longer inhabitable or because the owners want to remodel all or part of the structure.
While the reasoning and the procedures concerning both types of demolition are similar, the actual task is a little different because industrial structures tend to be much larger than residential ones. The industrial structures that usually get demolished include office buildings, schools, factories, processing plants, and other large buildings in Seattle.
Another way this kind of demolition is different is that more powerful equipment is needed to remove the heavier materials used in commercial buildings. After a residential building has been demolished, the ground on which it stood might need to be graded and leveled out before anything else can be built on the land. However, in the case of a commercial structure, the ground would already be leveled out.
Contact Us For Your Demolition Projects in Seattle, WA
Demolition projects require careful planning, precise execution, and diligent clean-up afterward.
Home Care Contractors provide all of those qualities regardless of whether we are working on someone's house or a building in Washington state; we will apply the discipline and rigor that a project as complex as a demolition requires. Before we get started, we conduct a thorough investigation of the Seattle site and follow the necessary steps to ensure that the utilities are disconnected and that any hazardous materials and debris are removed from the premises.
We also know that the service is not over once the structure has been demolished. We also take care of the cleanup and inspection of the site afterward.
Home Care Contractors has been serving Seattle residents for a decade now, so anyone who lives in the Greater Seattle area or the rest of Washington state can request our services. Customers can rest assured that we will carefully tear down any structures that need to be demolished so that they can quickly rebuild or remodel them in the way that they want. And when it comes time to rebuild, our Seattle company can help you with that as well.